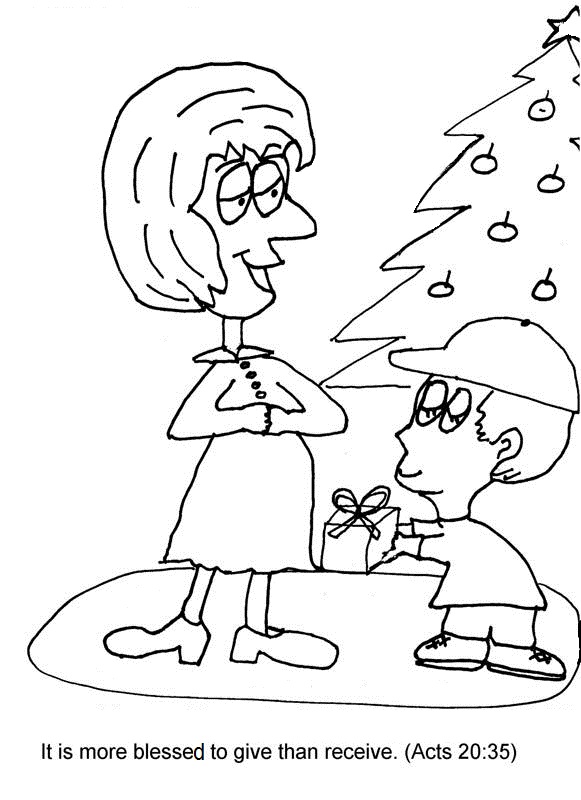 Agrapha 1: Acts 20:35—"It is more blessed to give than to receive."
Although this is a passage of Jesus not found in the gospels, it is as famous as many of his other sayings, although most people do not know it is referenced to Jesus. Scholastically, it is a doubtful saying: the writer of Acts is quoting Paul in one of his frequently rewritten lectures, and this lecture is quoting Jesus. On the other hand, this saying fits Jesus' other teachings about giving and humility.
What is important to know is that in the context of Jesus' teachings, it doesn't have the meaning we usually use it. Let's say it's Christmas day and parents are both giving and receiving presents. They take such joy in watching their children open the presents they have carefully selected and wrapped. But when it comes to their presents—a tie, or perhaps a sculpture of one of their kid's hands quickly produced at school—let's just say there isn't as much joy. So they look at each other and knowingly say, "It is better to give than to receive."
Yeah, that. That's not what Jesus meant.
We need to think about the reason why Jesus would say it is better to give. Not because there is simply more joy in giving—although that can be true. But rather because of the eschatological reversal.
Ecscatawhozawhat?
Jesus taught that whatever we gave to ourselves or from others on earth, we would receive the opposite from God on the final day. This is why he said "Blessed are you who are poor", because God would give them great wealth in the end. "Those who humble themselves will be exalted" because God would grant the humble the opposite of humility in the kingdom. And, on the converse, "Those who exalt themselves will be humbled" because God, on the final day, will reduce the great to nothing.
So Jesus is simply applying this principle to giving. The one who gives no longer owns what they surrender. And that act of giving humbles them. And the humbled—the poor, the meek, the persecuted—will be granted great things by God on the final day. Even so, the giver will BE the receiver—eventually. And what they receive will be greater than what they give.
This is stated more explicitly by Jesus in other sayings: " Give, and it will be given to you. They will pour into your lap a good measure-- pressed down, shaken together, and running over. For by your measure it will be measured to you in return." (Luk 6:38) And also, "Sell your possessions and give to the poor; make yourselves money belts which do not wear out, an unfailing treasure in heaven, where no thief comes near nor moth destroys." (Luk 12:33). In other words, whatever you give, you will obtain what you gave and more from the Lord.
This is in agreement with the book of Proverbs, which says, "One who is gracious to a poor man lends to the LORD, And He will repay him for his good deed." (Proverbs 19:17) and with Psalms which says, "How blessed is he who considers the helpless; The LORD will deliver him in a day of trouble. The LORD will protect him and keep him alive, And he shall be called blessed upon the earth; And do not give him over to the desire of his enemies. The LORD will sustain him upon his sickbed; In his illness, You restore him to health." (Psalm 41:1-3)
The only caveat to all of this evidence of the giver's blessing is that it must be to someone in need that we give. Someone must be poor or in humble circumstances or in great need—if we give to them, then the Lord will give to us, in abundance, on the day we need it.
So give! Give to the third world, give to the homeless, give to those who have nothing to give. And God will not forget you, even if it is only a cup of cold water.